Air China Introduces a Whole New Level of Service on the Newly Upgraded Boeing 777-200
2013-04-03
A whole new level of service to China and beyond
New Features, New Experience Air China's Aircraft, Always New!
China welcomes you with open arms
Starting this year Air China introduced important service upgrades on its established air routes to China from Bangkok, including the launch of newly upgraded 777-200 award-winning airliners to serve its 7 times weekly Bangkok – Beijing, in addition to its second daily flight CA959/960 – which operated by the newest class of Boeing 737-series, Boeing 737-800 – has been prolonged to all year round operation a month ago.
Now Air China has firmly established this air bridge between Thailand and China, evidence of one great achievement that contributes to making travel easier for our long-term, valued customers, without whose ongoing support today's success wouldn't have been possible.
With the introduction of the wholly upgraded Boeing777-200, our customers will see that air travel can be fun.
The features of the newly upgraded Boeing 777-200ER:
Premium Economy Class: Bigger seat enhances experience:
Two seats one in front of the other are spaced 35 inches apart, and each seat offers legroom that is 110% of that in traditional Economy Class.

The power outlet allows you to work or play

Y

ou can collect 110% of the applicable Air China kilometers.
Business class, you can fully stretch:
The seat is 22.72 inches wide and 78 inches long. Two seats one in front of the other are spaced 60 inches apart. It's outfitted with adjustable footrest, headrest and waist support. The adjustment preset modes make it possible to easily adjust the seat to any comfortable angle, allowing the seat to become a lie-flat bed on which even a person 1.9 meters tall can stretch. The armrest is lift able.

The carry-on baggage storage space is available.

The tablet offers Hollywood movies, music and games. The programs are updated on a monthly basis. Noise-canceling headphones and personal independent power outlet are also available.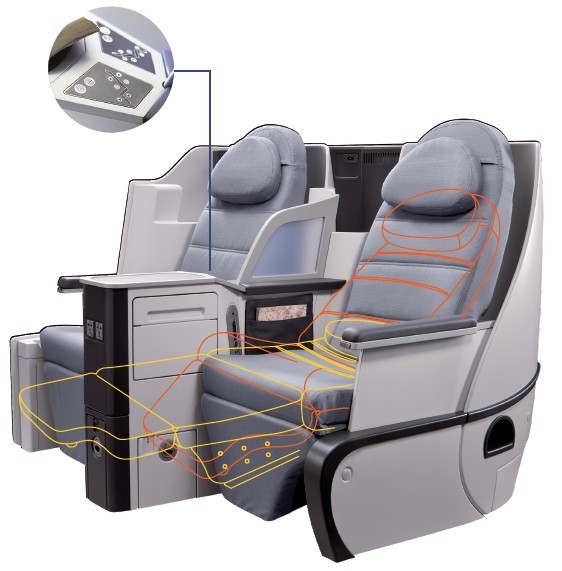 Newly designed Cabin Features:
The more humanized cabin design gives you an optimal personal space during the flight.
The total number of seats is reduced to 310.

The Business class features 30 brand-new lie-flat seats.

The Premium Economy Class meets passengers' various needs.

The Business Class, Premium Economy Class and Economy Class are all outfitted with personal power outlet.
Flight schedules for 777-200 serving Bangkok from Beijing:
Flight Number

Operates

Weekly

Departs

Arrives

Aircraft
Type

CA979

March 31,2013– October 26, 2013

Daily operation

Beijing 19:35

Bangkok 23:40

777-200ER

CA980

March 31,2013– October 26, 2013

Daily operation

Bangkok 01:00

Beijing 06:30

777-200ER
To see is to love.Book Now!
Premium Economy Class Booking Guide:
Step 1:Select "Premium Economy" option.
Step 2:Because we only serve Premium economy class on CA980 or CA979 for the aircraft type of "777", so please
pay attention to those when you make a purchase on line.
*Please note currently we don't offer Premium Economy Class Service on our second daily flights of CA959/CA960 and CA809/CA810.
Flying Air China, Flying with confidence
Choosing Air China means you are choosing world class service supported by the most advanced German-standard quality guarantee
As part of our ongoing drive for excellence, Air China places a high priority on aircraft maintenance standards. To consistently deliver international-standard maintenance services to all our equipment, Air China and Lufthansa Airlines established a joint venture company more than 24 years ago in Beijing to provide aircraft maintenance and engineering services. Ameco provides maintenance, repair and overhaul (MRO) services for airframes, engines and components of commercial aircraft. It also offers training services, engineering and logistics support, and GSE calibration to keep all of Air China's aircraft flight-worthy at all times.
Ameco Beijing has been authorized by CAAC to act as a Designated Modification Design Organization Representative (DMDOR). And it is a recognized MRO provider licensed by CAAC, FAA, EASA and flight regulatory authorities from many other countries.
Thanks to Ameco Beijing, all of Air China's aircraft regularly undergo the most reliable German-standard aircraft maintenance services. Choosing Air China means you are choosing world class service supported by the most advanced German-standard quality guarantee. Ameco Beijing has proven that the quality of its maintenance, engineering and training services have withstood the test of time. Air China's pilots and crews rely on Ameco to keep our equipment in top operating condition, reliably and dependably, so that our passengers can travel with confidence. With this strong equipment MRO partner, Air China can continue to expand our global routes with the knowledge that no matter where we fly, our equipment will always be ready to serve our customers.
About Ameco Beijing:
Aircraft Maintenance and Engineering Corporation (Ameco Beijing), a joint venture between Air China Limited and Lufthansa German Airlines, was established on August 1st, 1989 with Air China Limited holding 60% and Lufthansa 40% of the registered capital. The registered capital is USD 187.53 million and the joint venture agreement was signed for 40 years.
http://www.ameco.com.cn/english/services/